Joe Bastardi, Accuweather's  meteorologist, has issued a winter forecast predicting harsh cold and snow from the Northwest to the Great Lakes and New England, an early winter for the Northeast, a wintry mess for the mid-Atlantic and Midwest and abnormally warm, dry conditions from Southern California to the Carolinas.
The main player governing the forecast for this winter is the phenomenon called La Nina, when sea surface temperatures across the equatorial central and eastern Pacific are below normal. La Nina strengthens as the departure increases. La Nina winters are typically synonymous with harsh conditions across the northern tier of the United States and drier-than-normal conditions throughout the southern tier.
In his forecast he calls for serious winter in Upstate NY with a significant January thaw.  Bastardi is pointing to areas from northern New England to the Great Lakes, northern Plains and interior Northwest for the worst of this winter's snow and cold. This zone includes above-normal snow and ice in the forecast. The good news is that the building of the snowpack across the Pacific Northwest is essential to hydroelectric production in the spring and summer.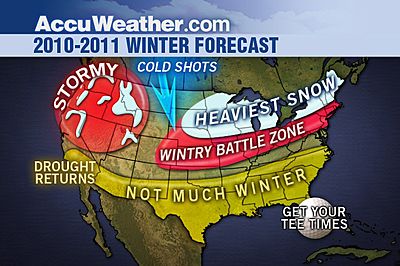 SHARE
October 29th, 2010 | Category: Adirondacks, Cold Weather Camping, Nature & Outdoors, Winter Camping