The P-38 can opener is pocket-sized (approximately 1.5 inches, 38mm, in length) and consists of a short metal blade that serves as a handle (which doubles as a flat-blade screwdriver), with a small, hinged metal tooth that folds out to pierce the can lid. A notch just under the hinge point keeps the opener hooked around the rim of the can as the device is "walked" around to cut the lid out.
The P-38 is easily used. First the cutting point is pivoted to its 95-degree position from its stowed, folded position. Then, for a right-handed user, the P-38 is held in the right hand by the flat long section, with the cutting point pointing downward and away from the user, while also hooking the edge of the can through the circular notch located on the flat long section next to the cutting edge. The can is held in the left hand, and the right hand is rotated slightly clockwise, causing the can lid to be punctured. The can is then rotated counter clockwise in the left hand, while the right hand rotates alternatively slightly counterclockwise and slightly clockwise, until the can has been rotated nearly 360 degrees and the lid is nearly free.
The lid of the now opened can is lifted, most often with the P-38 cutting edge, and the P-38 is wiped clean, and the cutting point is rotated back to its stowed, folded position. Left-handed users simply hold the P-38 in their left hand, with the cutting point aimed towards themselves, while holding the can to be opened in their right hand, while also reversing the sense of the cutting hand movements just described.
One rumored explanation for the origin of the name is that the P-38 is approximately 38 mm (1.5 in) long. U.S. Army sources, however, indicate that the origin of the name is rooted in the 38 punctures around the circumference of a C-ration can required for opening.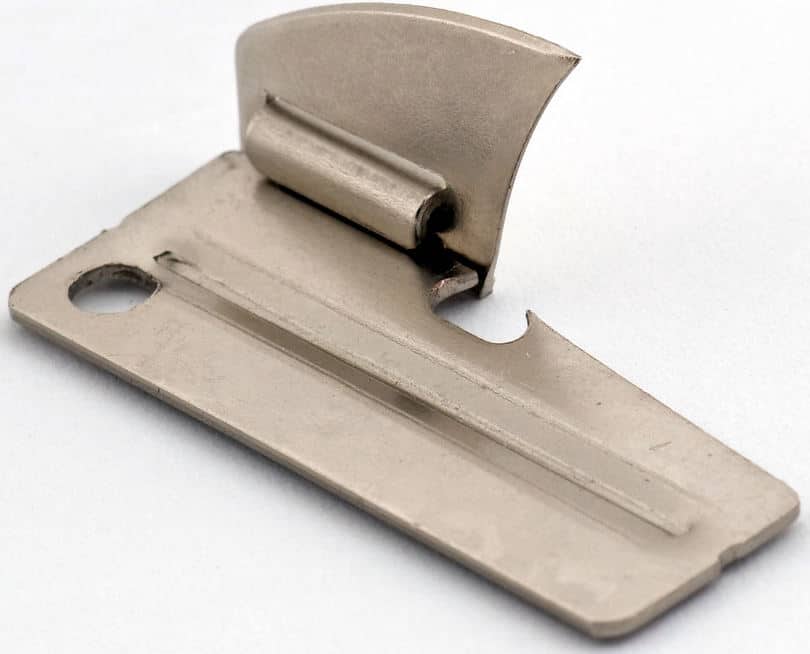 Follow our occasional Tweets @WinterCampers and visit us on Facebook.
SHARE
January 18th, 2017 | Tags: cooking | Category: Winter Camping Gear
Comments are closed.