The 13th Annual Winter Camping Symposium will be held Oct. 27-30th 2011 at Pinewoods Retreat at Camp Miller has posted their schedule of events.  Winter campers and enthusiasts from around Michigan, Wisconsin and Minnesota come together to share ideas and show off new creations which aid in the adventures of winter outdoor activities.
Activities range from cold camping to hot camping, from kite sailing to building your own stove, from arctic adventures to sleeping in a quinsy in the backyard, from gear swaps to a chili feed.
Most seminars will be held throughout the day on Saturday and are covered by the $25 registration fee. Most workshops will take place throughout the day Friday although there will be one on Thursday night and a few Sunday morning. Workshops will require pre-registration and additional fees to cover the cost of materials etc.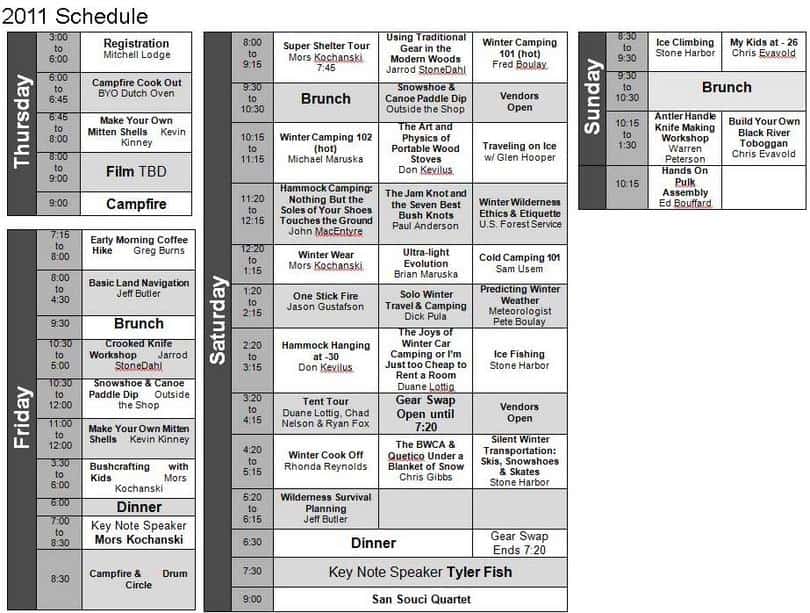 Workshops include:
Hands On Pulk Assembly-Ed Bouffard
Free Range Bushcraft for Youth Mors Kochanski
Basic Land Navigation-Jeff Butler
Toboggan Workshop Chris Evavold
Making an Antler Handle Knife Warren Peterson
One Stick Fire Jason Gustafson
The Jam knot & 7 Best Bush Knots Paul Anderson
Snowshoe & Canoe Paddle Dip Greg Burns
Crooked Knife Workshop Jarrod Stonedahl
Make your own mitten shells Kevin Kinney
Follow our occasional Tweets @WinterCampers
SHARE
October 27th, 2011 | Tags: education | Category: Cold Weather Camping, Winter Camping
Comments are closed.