I bought this Black Diamond Equipment Megamid Tipi Tent as a 2nd (off color) with thoughts that it could be used for emergency shelter when canoe camping, but especially for winter camping. The tipi sets up easily on snow and over uneven ground.  The four person Megamid is supposed to sleep 4 persons, but I am sure they never made those calculations with 6'4″ campers in mind.    It  fits 3 sleeping forms quite well, especially if the tipi can be hung from line rather than using a center pole.
The Megamid provides 51 square feet of floor space, one door and measures nearly 5′ (57″) tall.  Total weight of the tent, pole, stakes and stuff sack is under 4lbs.
Setup is simple and the tipi works fine shedding snow.  The tipi form sheds snowfall easily providing a soothing shooshing sound through the night as accumulated snow slides down the side.
Without a floor one has to pack a bivy or ground cloth to provide additional coverage below the sleeping pad, so I am not too sure about the weight savings.  However, it is nice to be able to enter the tipi with boots on and not worry about tracking snow in.
Cooking inside appears to be an option, however, I haven't cooked inside yet.  Like any single wall tent condensation can be an issue if there isn't adequate ventilation.  It is easy (and recommended) to raise the sides of the tipi to allow air flow to come under the edge of the tipi.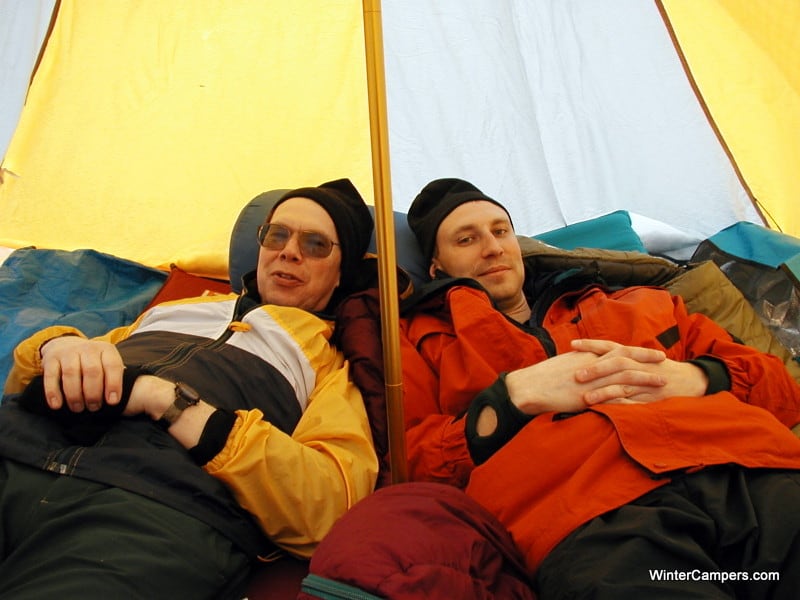 SHARE
January 10th, 2017 | Tags: tent, tipi | Category: Cold Weather Camping, Winter Camping Gear
Comments are closed.