Rob West's Wool Sweater
I have gone on winter camping trips with Rob since January 2002. The picture below depicts Ian, Mark and Rob at a rest break during the hike into Puffer Pond.  Ian is hydrating, which is good, Mark is looking pretty chipper, and we can see Rob, although he has his back turned to us, modeling a grey/light tan wool sweater.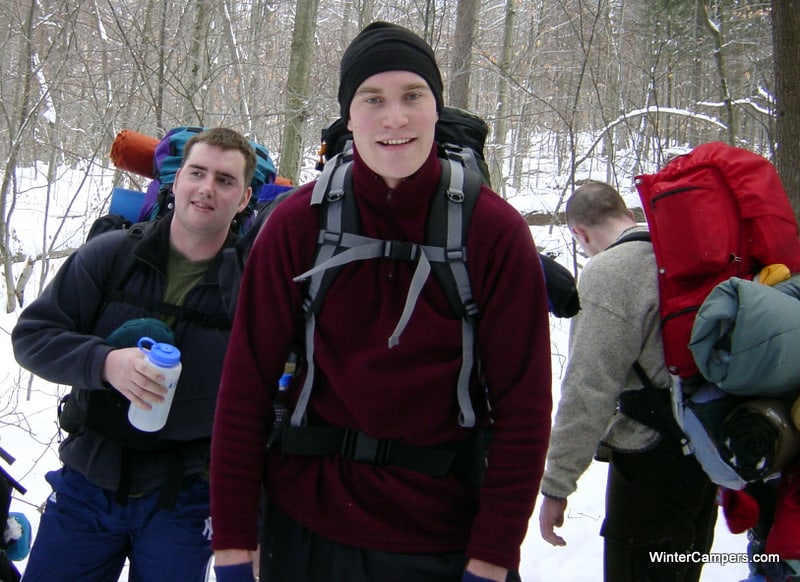 The wool sweater is a good choice.  It is warm, ventilates well, the color blends in with the environment, and it provides warmth with a shell over top.  Below Rob (seated 3rd from the right) is layered up, but you can see the wool sweater is still part of his outfit.
A couple months later we did another camping trip to Peaked Mountain and, again, Rob was wearing his wool sweater.
Fast forward seven years more years to January 2009.  We went camping at Dead Vly with Rob and, once again, his venerable wool sweater makes the trip.  In fact, I don't think I have ever winter camped with Rob when he didn't have his wool sweater.
When we camped at Cascade Lake in the late fall; temperatures were moderate and although he is slightly hidden behind Mark you can clearly see Rob wearing his grey wool sweater.  That's over 10 years of winter camping usage for that same wool sweater!
I am always dragging different clothes on camping trips trying to find out what works best for me for those conditions. I admire Rob for his consistency. BTW, Rob does that sweater come in tall sizes?
Follow our occasional Tweets @WinterCampers and visit us on Facebook.
SHARE
January 17th, 2016 | Tags: clothing, wool | Category: Cold Weather Camping, Snow Hiking, Winter Camping, Winter Camping Gear