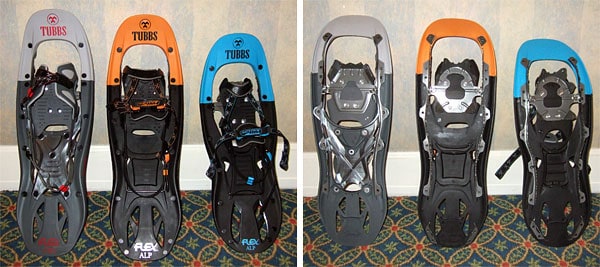 Tubbs introduced their new Flex Series snowshoes. This series is a complete departure from their traditional aluminum frame snowshoes – they are made of injection molded plastic that is thin enough and strong enough to give the snowshoes a distinct flex to roll naturally from heel to toe.
These snowshoes are optimized for walking on firm snow, not for floating on fluffy snow. The topside has an easy to attach step-in binding, and the bottom side has serious lateral and toe crampons. The toe crampon rotates on a hardened steel clevis pin.
There are three models in the series:
the Flex ALP for back country use is the largest and most aggressively treaded
the Flex NRG for day hiking is intermediate
and the Flex TRK for trail walking is smaller and has less aggressive traction.
The weight of the ALP shoes is just over 4 pounds/pair, so the story here is not on light weight but on pure raw traction and flexibility, and the new Flex series delivers.
SHARE
October 26th, 2009 | Tags: snowshoes | Category: Snow Hiking, Winter Camping Gear
Comments are closed.