Trail blazes look different depending on where you hike. Sometimes, they're painted on trees and sometimes they're little plastic disks. Sometimes they're painted on rocks and sometimes they're plastic rectangles nailed to trees. SectionHiker is running a Trail Blaze Photo Contest looking for trail blazes from different parts of the world.  WinterCampers.com submitted  pictures from some of our winter adventures.
Below Sparky and Matt point out an obvious trail marker on the hike into Dug Mountain Waterfall.  Well, it is obvious now.  The previous 20 minutes it wasn't so obvious. Too bad you guys couldn't have found one earlier…..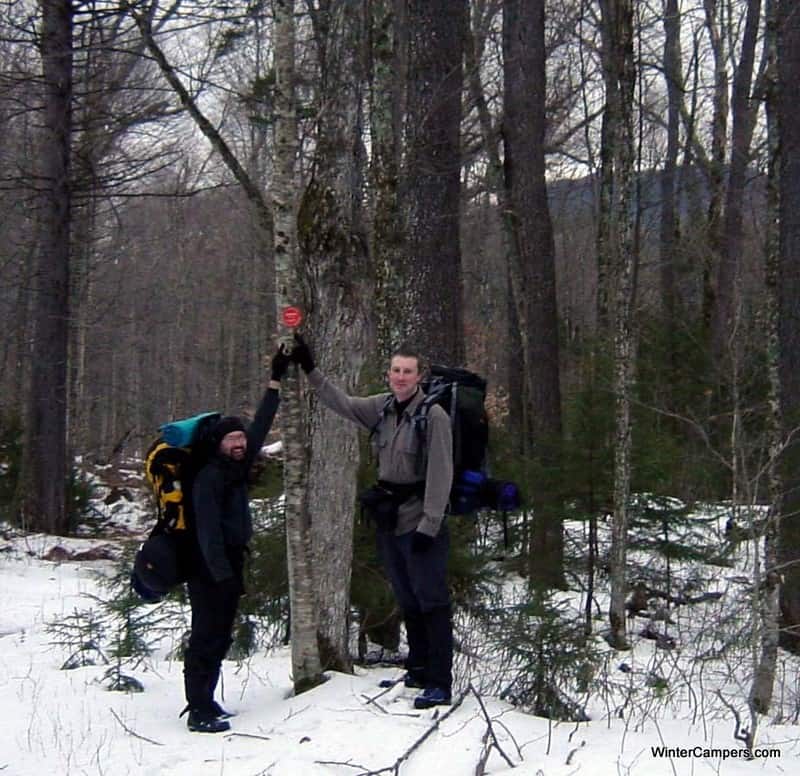 Jim heads to the deep woods of Pine Plantation wearing snowshoes and towing a sled, oblivious to the guidance of the trail marker.
Sparky pauses at a trail marker on Snowy Mountain and tries to remember where he had left his snowshoes.
An embedded trail marker on the trail into Stony Pond.  How many years did that take?  What did snowmobiles look like back then?
If you have trail blaze pictures you too can participate in the trail blaze contest.
SHARE
September 17th, 2009 | Tags: trail blaze | Category: Adirondacks, Cold Weather Camping, Snow Hiking, Winter Camping Skills
Comments are closed.