Gloves provide a covering for individual fingers, but wearers do not derive much benefit from natural body heat. While gloves have separate coverings for four fingers and the thumb,  mittens have one covering for all of the fingers  and one for the all important opposable thumb. Mittens thus provide a pocket of warmth over the four fingers, but wearers often suffer from a lack of dexterity.
If keeping all  fingers warm is a priority during winter activities, mittens are usually considered preferable to gloves. If hand mobility is a priority, then gloves provide much more articulation than mittens.
Mittens are generally warmer than gloves (given the same material) because gloves have a higher surface area than mittens (due to the fact they have individual fingers). This means that the heat from your body dissipates into the air more quickly and it feels colder.
Double-layer woodsman's mittens (known as choppers and mittens) have been a winter staple for generations. They're tough enough for chopping wood, hunting, ice fishing and outdoor chores, and great for sledding and cold-weather hikes.
Traditionally the outer shell or chopper is made of strong, supple leather that resists wind, wear and water.  The mitten insert provides insulation and warmth. The mitten inserts should fit inside the choppers and give a loose fit when your hands are inside. A tight fit cuts off the circulation of warm blood and can lead to frostbite and other cold injuries.
Shown below are three variations of choppers and mittens.

Below is shown a traditional style consisting of a rugged leather chopper with a hand knitted mitten insert.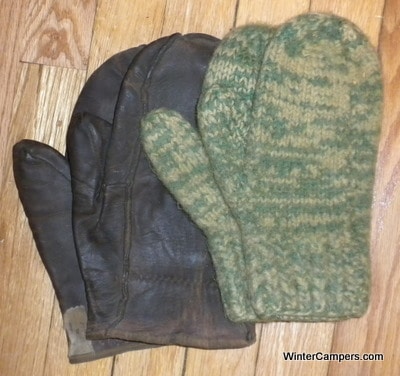 Shown below are lighter weight deer hide choppers with a loose fleece mitten insert.
Finally, the choppers below are made of a waterproof Gore-Text shell with wrist closures and dense fleece mitten inserts.  These choppers are longer with cuffs that extend to mid-arm.
One advantage of choppers and mittens is the ability to substitute various mitten inserts as mittens get damp due to sweat or to increase hand warmth.  For extended outings I recommend carrying at least two full sets of wool mittens.   In a pinch you can also substitute  extra wool socks for wool mitten inserts. Below is shown a thick fleece mitten insert.
Finally, one can also use a hybrid system with light glove liners inside of choppers.  This enables the choppers to be removed when increased dexterity is required, yet keeping your hands covered.
Follow our occasional Tweets @WinterCampers
SHARE
February 16th, 2011 | Category: Winter Camping, Winter Camping Gear
Comments are closed.