Defining features of a four season tent are:
All vents can be closed during storms.
Tougher materials than three-season tents.
Multiple guy-out points for anchoring.
For mountaineering and winter backpacking.
Despite what the name implies, four-season tents are actually one-season tents: winter. Both the canopy and body feature stronger materials than three-season tents, and the body shape maximizes resistance to high winds and heavy snow loading. There is a corresponding increase in both durability and weight.
Size – You should get a tent for the exact number of users where weight is an issue. Some weight-obsessed alpine climbers even use tents that are too small to save weight, but you don't want to spend more than one night in a row packed together like sardines. If you're planning for a base camp or spending a week skiing laps in the same cirque, then consider a larger tent than you need. Every extra inch counts when you're sitting through winter's long nights.
Single or Double-Wall Tent? Get a single-wall tent for long backcountry ski tours or lightweight alpine climbs. Get a double-wall tent for trips where you will be in the same camp for several nights (base camp).
1 Door vs. 2 Doors? For winter tents the door question usually gets answered when you think about how much time you'll be on the move. In base camp, a second door can be pretty key. On a steep alpine route, a second door just adds weight. However, some find the convenience of a second door to be well worth the extra few ounces, especially for tents that hold three or more people.
Vestibule? Vestibules provide a place to store gear and put on your boots without exposing the inside of your tent to the burly snowstorm brewing outside. When camping on snow, you can dig out the below the vestibule to create a plush porch and storage area. Four-season single-wall tents often do not have an integrated vestibule because the people using these tents tend to focus on saving weight.
Venting. These tents include just enough venting to reduce condensation, but every speck of mesh can be sealed to keep out the snow during a storm.
Footprint: Footprints add extra water resistance and durability for long stays in camp, but they usually get left behind if you plan to move camp every night. Get yourself one and use it whenever you can afford the extra weight.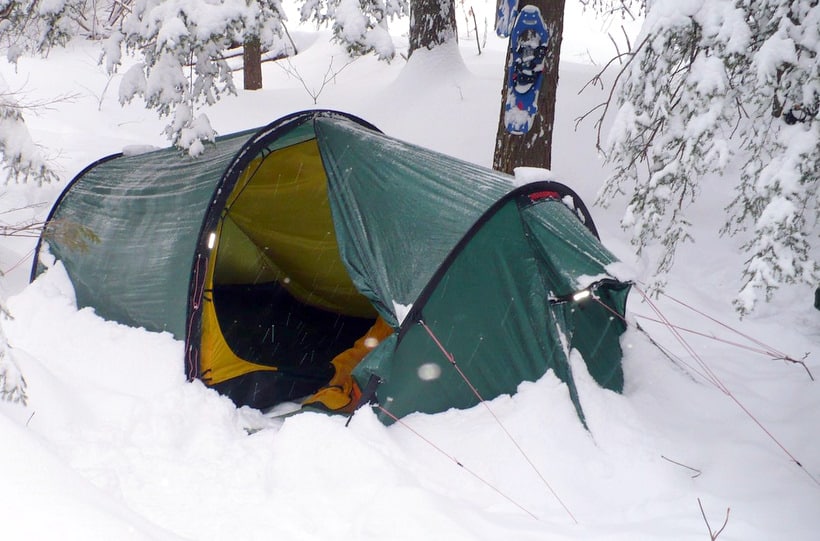 Follow our occasional Tweets @WinterCampers
SHARE
March 16th, 2011 | Category: Winter Camping Gear
Comments are closed.