Once in camp it is a treat to put on dry socks and warm footwear.  Keeping your feet warm plays an important role in maintaining a comfortable temperature.
Down booties are super lightweight above the ankle booties made with a nylon outer shell fabric and a adjustable draw closure. They are usually made of 650 – 800 fill goose down or Primaloft insulation and are light (~6 ounces) and compressible so you can easily carry them in your pack.
Sizes are a loose range so they may be slightly loose or slightly snug on your foot.  Down booties are usually worn over socks and may be worn inside of over boots.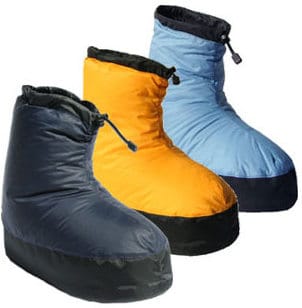 Follow our occasional Tweets @WinterCampers
SHARE
February 14th, 2011 | Tags: down booties | Category: Cold Weather Camping, Winter Camping, Winter Camping Gear
Comments are closed.