Frankly I have mixed experiences using sleds to transport winter camping gear. In the right circumstances a sled offers advantages over backpacking. It easy way to move a lot of gear – up to 18,000 cubic inches and 200+ lbs – more than one can comfortably stash in a backpack. So if you are setting up a base camp, hauling supplies to a cabin or outfitting a scout troop, you might consider a sled. One can just hook into the harness and pull your winter gear rather than carry it.
In theory, a sled just sliding along behind you sounds wonderful. In practice, it works very well on smooth flats and slight down hills, especially if the load is light. It doesn't work so well up or down steeper hills. Pulling something behind you can get pretty complicated as you thread your way through tight trees, around blow downs, or crossing brooks and steep-sided gullies. On side hills, pulling a sled can be a real pain. Here in the northeast you can encounter all of those challenges within a matter of feet on any given trail.
Sleds work best in the right circumstances. This usually means adequate snow cover and a reasonably level, wide trail. In steep terrain a sled benefits from lashing the gear inside and stiffening the sleds and/or harnessing. The addition of a rigid harness system is what differentiates a sled from a pulk.
Sleds
My first sled was a $12 sliding model from the local Super-Mart that we modified with lashing, but it proved to be thin and the plastic cracked under the abusive conditions of winter camping. Carrying a broken plastic sled out of the woods is not fun. Unless you are only going in your neighbor's woods, these toy sleds are not recommended.
A more durable sled is the 5 lb, bright orange Paris Expedition Sled, which I have used as-is. The Paris Expedition Sled is made of .125 mm linear polyethylene and it has metal grommet reinforced tow holes with additional holes along the side for a towing harness and/or lashing. It tends to track straight and is a tough sled for the price. It is also a popular model for modifying into a home-made pulk. These sleds can be found at local hardware stores or ordered online.
"Over the counter" sleds may be used in some winter camping situations.
Otter Outdoors offers 8 different sizes of their sled. Originally marketed for ice fisherman (some models even come with ice shack accessories), it supposedly will not crack even at -40 degrees. The sleds are deep (10-14″) and stable. Cabalas sell two small Jet Sleds ($25) that look like the Otter Outdoors design.
Pulks
A pulk (from Finnish pulkka; Scandinavian for a low-slung sled) is used to carry supplies or transport a child over snow. The addition of a rigid harness system is what differentiates a sled from a pulk.  The components of a pulk include the sled, the poles and the harness / hip belt.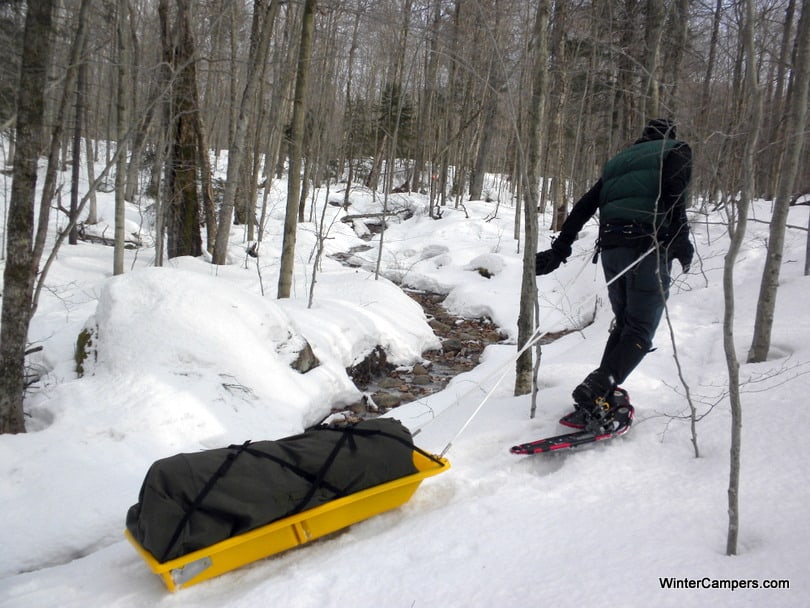 A pulk is designed with a harness system to enable towing winter camping gear.
Commercial pulks
At the high end are commercially available pulks such as the ones from SkiPulk, Granite Gear, Kirafu, Snowsled, WildernessEngineering or Fjellpulken.
SkiPulk offers a wide range of SkiPulk accessories and models. You can purchase poles, hip belts and/or harness to accessorize a Paris Expedition sled or complete SnowClipper, Weekender or Expedition pulk system.
The Granite Gear Expedition sled weighs 17 lbs and has a capacity of 15,000 cubic inches. With a crossed fiberglass stay system, flexible nylon connecting rods, and a zero play full body harness, this sled pulls and turns easily. The lightweight hull offers a low coefficient of friction (drag) over the snow. There is a durable cover with 3 compression straps to secure gear and a full-length zipper for access. The hull has molded-in ski runners and there is a brake prevents sled from sliding backward on slopes. The harness poles are constructed in such a way as to allow for hip rotation.
Kirafu offers three pulk models: Expedition ($825, 15lbs/18000 cubic inches), Armadillo ($638, 12 lbs/12000 cubic inches and Military sleds (MILSPEC versions).
Snowsled makes a variety of pulks for short 2 week expeditions to lengthy multi-week trips, adventure racing models and day trip versions.
WildernessEngineering offers an 11,000 BaseCamp Pulk and a 6 page instruction booklet.
Fjellpulken from Lillehammer, Norway offers a broad assortment of models for children, disabled, touring and expedition, rescue and dog racing.
Northern Sled Works offers the Siglin Sled and Siglin Pulk as well as models for towing behind a snowmobile.
Expeditions rely on pulks to transport large amounts of gear.
Build your own pulk
If your winter camping budget doesn't warrant an expedition pulk there are internet resources for making your own pulk. Some that we like are:
My Cheap Snow Camping Sled by Michael Krabach who starts with a sled model called the HO! by Recreation Inc.
On ExploreNorth.com Mark Harris has a simple, cheap and quick to build design.
Penob Bob gives instructions for modifying a Paris Expedition Sled into a pulk
PiceaRubens offers modifications to the Penob Bob design.
Mad River Rocket offers a pulk kit, material list and instructions.
Visit Skipulk.com and download the Pulkbook.  The Pulk Book includes instructions for drilling holes and rigging fiberglass poles to a sled, attaching the poles to a hip belt, tagging on fins for tracking and stabilization, and using it in the wilderness. Pulk poles and hip belts are available for sale through the skipulk website.
Toboggans
Some winter travelers prefer the traditional toboggan design. Toboggans are the traditional sled in North America.  Toboggans are especially popular with traditionalists, "hot tenters" and base campers due to the increased capacity for gear.
Toboggans carry large loads and can fit in a set of snowshoe tracks.  They are usually quite stable due to their length. They don't work well in steep terrain or with cross-country skiers. Toboggans can be made from wooden or plastic materials. Wooden toboggans need to be waxed and may crack or snap if hauling a heavy load over a log. If a wooden toboggan is dragged over a rocky trail you can gouge the base or crack the planks.
One tradeoff is the width of the toboggan.  The narrower the toboggan the easier it pulls.  However, very narrow toboggans are more susceptible to tipping.  16 inches is a typical width with a length of 8 – 12 feet.  A wider toboggan is more stable, but harder to pull and it may not fit inside your snowshoe trail.
Typically gear is packed in duffel bags, plastic buckets, plastic bins or milk cartons or lashed to the toboggan using a tarp.
A method for lashing gear using a tarp involves the following steps:
Lay a large tarp on the toboggan. It should be large enough to turn up on all sides such that the ends cover the load completely. The tarp can be used as a shelter or windbreak after you unpack at camp.
Distribute the load equally on the toboggan so that it will track properly.
Make sure the load is packed squarely, that nothing projects beyond the toboggan edges, and that it is not top heavy.
Once gear is stowed on the toboggan cover it snugly with the ends of the tarp and proceed with the lashing.
Start the lashing rope at the front of the toboggan, crossing over the top, through the side ropes, back up and over.  Repeat down the side of the toboggan. Bring the lashing rope back to the front of the toboggan in the same manner and secure it with a knot.
After your lashing is completed you can secure additional items such as axes, shovels, poles, and snowshoes to the top of the load. However, to maintain balance it is best to keep these extra items to a minimum.
Try to ensure that you make a neat, secure job of lashing the load. This will ensure that the load does not slip or move while you are on the trail.
When you get to your campsite an over-turned toboggan makes a great platform on which to place your stoves for cooking.
Toboggans are used by traditionalists for moving winter
Follow our occasional Tweets @WinterCampers and visit us on Facebook.
SHARE
December 15th, 2016 | Tags: backpacking, pulk, sled, snow camping, snowshoeing, toboggan, Winter Camping | Category: Cold Weather Camping, Winter Camping, Winter Camping Gear
Comments are closed.