Who needs a tent for winter camping? Ottawa Outdoor Magazine provides an illustrated, instructional article "How To Build A Quinzee" by Allen Macartney covering what is a quinzee, digging a hole and filling it in, snug in any temperature, customizing the domicile, and cautionary notes.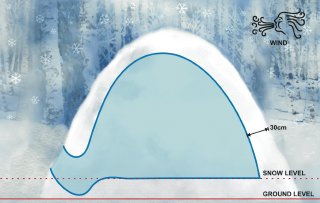 If you are interested check out the article here and read WinterCamper's Winter Camping Shelters.  You will be a Quinzee Constructor Extraordinaire.
Follow our occasional Tweets @WinterCampers and visit us on Facebook.
SHARE
March 16th, 2012 | Tags: quinzee | Category: Cold Weather Camping, Winter Camping, Winter Camping Skills
Comments are closed.