A snow shovel is a useful tool for winter camping in the backcountry.  It can be used for a variety of tasks:
Making snow shelters.  A shovel can be indispensable for making a quick emergency shelter or building a quinzee, snow cave or igloo.
Clearing a tent site.  A commonplace use of snow shovel is clearing a level space for your tent when snow camping .  You can carve out a windscreen or dig a kitchen area.
Drinking water.  A  shovel comes in handy for digging fresh snow to melt for drinking water.
Avalanche rescue.  If you travel or camping in avalanche areas you should carry a shovel for self-rescue.
Shoveling out your car.  Last but not least, when you return to your car after a winter camping trip a shovel is useful for ensuring you can get your car back on the highway.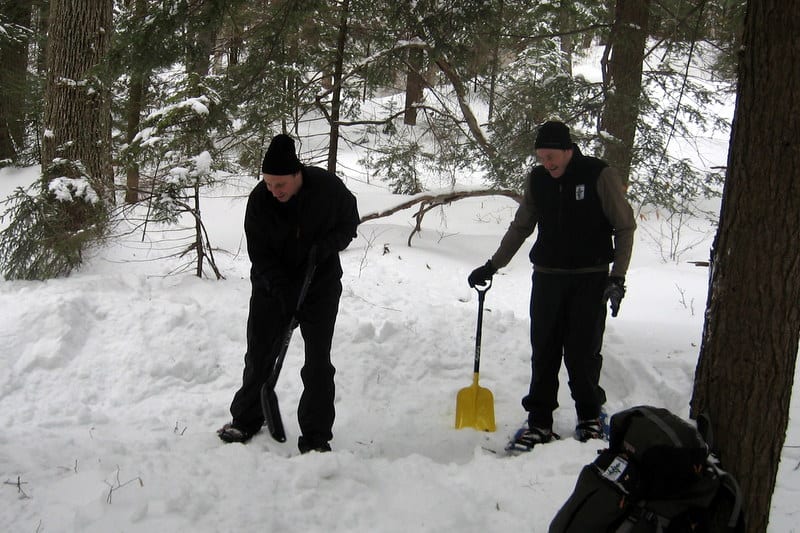 Snow shovels are made of aluminum or Lexan® polycarbonate. Lexan is favored for lighter weight, while aluminum is used for strength and durability.
Small shovel blades are easier to handle but less efficient at chopping and moving snow while larger blades can move more snow but may weigh more, take more space and require more strength to operate. The shovel blade should fit easily in your backpack or pulk.  Some shovel blades are flat others have serrated or pointed blades that help cut through snow and ice.When digging snow pits and making smooth walls the angle of the shovel blade is a factor to consider as a flat blade will help you create a smoother pit wall.
Most backcountry shovels have telescoping or segmented shafts that can be made compact for carrying on your pack. They fit together with spring-loaded buttons that pop into holes in the connecting sections. Longer handles provide more leverage for digging.
Handles come as either a T-grip or D-grip. The T-grip, which is gripped between the fingers, is lightweight but can be awkward if you're wearing mittens. The D-grip is usually bulkier and slightly heavier, but it is easier to use with mittens.
I have used a small, light  Lexan shovel for the past few years.  This year I sought a larger aluminum shovel from Appalachian Ski & Outdoors (AppOutdoors.com).  My choice was a Black Diamond Equipment Transfer 7 Shovel.
Characteristics of The Black Diamond Equipment Transfer 7 Shovel
The Black Diamond Transfer 7 Shovel has a trapezoidal shaft to increase strength.  By moving away from the traditional round shaft, Black Diamond created a handle that extends with a simple pull and cannot be rotated on accident.
| | |
| --- | --- |
| Component | Description |
| Blade Material | 6000 series aluminum |
| Blade Size | 15.75 x 10.3 inches |
| Blade Volume | 2.65 L or .7 gallon |
| Length: Packed | 16.3 inches |
| Length: Deployed | 33.9 inches |
| Weight | 770g or 1 lb 11oz |
Features include:
The shaft extends in length from 16.3 inches to 33.9 inches.  This  long rigid shaft is one of the longer shovels available.  As a tall person I appreciate the longer reach.
The trapezoidal bent shaft deploys quickly via a quick squeeze of spring pins.  The shaft shape prevents rotation so the spring pins engage every time.  You never waste previous time adjusting the shaft trying to  get spring-pin holes to align and lock.
The hybrid  T-grip handle feels like a D-grip and is  mitten-friendly.  The triangular handle doesn't flex  and stays rigid even under heavy wet snow.
It has a  large, flat, smooth, steep-walled, anodized 6000-series aluminum 10.3″ x 15.75″ blade. The slightly pointed blade enables effective chopping and the flat sides smooth snow walls.
The anchor holes through blade can be used as a dead man anchors.
Criticisms include:
Any extendible shaft can get snow/water inside. When this moisture freezes the small metal spring-loaded connectors sometimes freeze up and have to be cleaned out. This is true of this shovel as well.
Summary: There are shorter, lighter shovels on the market but if you are tall and want to reduce the amount you have to bend over; if you want a shovel that is simple, easy and fast to deploy; if you want a shovel that moves volumes of snow then buy this shovel.  You can find it online with prices ranging from $29 – $49.
Follow our occasional Tweets @WinterCampers and visit us on Facebook.