I have attended two Leave No Trace training classes: a weekend Leave No Trace trainer taught through the Green Mountain Club and a week long Master Educator class taught by the Appalachian Mountain Club through the Adirondack Mountain Club.
In both classes the participants were required to teach some of the concepts. What struck me was the wide variety of teaching techniques – games, skits, exercises, plays, and lectures. When everything was said and done the method of teaching had the biggest impact on my retention of the material.
There have been attempts to capture the varied lessons as best practices. LNT offered free swag for sample lessons and tried to compile a LNT Cookbook.

Leave No Trace 101: 101 Ways to Teach Leave No Trace offers a variety of techniques for teaching the seven principles of Leave No Trace. Each technique is described by presenting an objective, the necessary materials, a target age and group size audience, directions and duration.  Some of these exercises are a lot of fun.  I hope to pack my book on our next winter camping trip for some fun!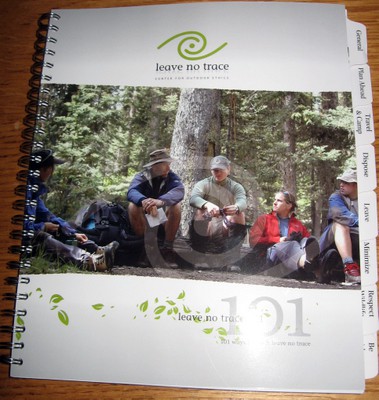 Follow our occasional Tweets @WinterCampers and visit us on Facebook.
SHARE
February 4th, 2012 | Tags: Leave No Trace | Category: Leave No Trace, Winter Camping, Winter Camping Skills
Comments are closed.