I have a survival kit that I take on canoe trips and some adventures.  On our latest winter camping venture we got talking about doing a 'survival overnight'.  The idea would be to camp out overnight with minimal gear.  How minimal was the topic of most of the discussion.  Doing the trip somewhere safe where someone could bail out if necessary was another discussion.
A starting point for an overnight survival kit would probably include most of these items.
A water tight plastic Ovaltine bottle to store 16 items.
Four fire starters: box matches, a Bic lighter, Fire Steel fire starter and matches with an emery board in a pill prescription bottle.
Two fire tinder sources: cotton balls swabbed with Vaseline and WetFire tablets.
Alcohol hand cleaner (can also serve as fire starter)
Iodine water treatment tablets
Micro cordage
A Leatherman Squirt multi-tool
A whistle
Compass
Toilet paper
Aluminum foil
Emergency poncho
Emergency space blanket
Everything fits inside the bottle and stays dry.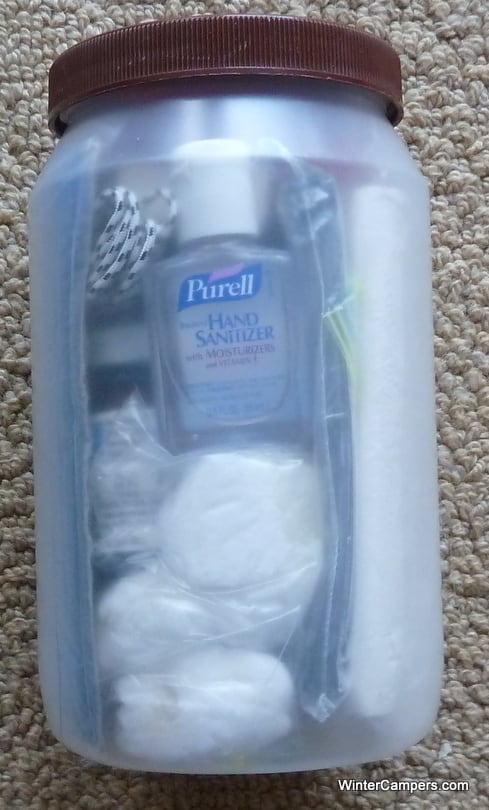 Follow our occasional Tweets @WinterCampers and visit us on Facebook.
SHARE
June 4th, 2016 | Tags: survival, wilderness survival | Category: Winter Camping | – (Comments are closed)
It was cold, about 19 degrees, as four of us-Jim Muller, Mark Hay, Jay Katonica and Scott Handy set out on a slippery, snow-covered bushwhack up Warren County's Mount Blue.  Our canine escort, Maddux, a German shepherd/husky cross, bounded ahead with enviable ease as the rest of us struggled on the slick footing.
The plan was to drop our packs along the trail to Lizard pond, bushwhack up Mount Blue, then return to our packs and hike along the shore of the Lizard pond to the lean-to sited on the western shore of the pond. The mile-long trail to Lizard pond begins on the southwest shore of Garnet Lake, where there is a campsite and a trail sign at the foot of the valley between Mount Blue and Gillingham Knoll.
Donning snowshoes it was easy and straight forward crossing over Garnett Lake.  then we followed the mile-long trail leading to Lizard Pond on the southwest shore.


According to Bill Ingersoll "long ago, some unknown surveyor recorded the name of this small pond as "Lixard Pond," probably in error. This simple misspelling shaped the topographic maps of the next century, for the name "Lixard" appeared on the U.S. Geological Society maps for decades to come. The metric USGS maps currently available label it as Lizard Pond, but this restoration of proper spelling has gone largely unnoticed. People still refer to it as Lixard Pond as though it is the actual name – or else they just haven't updated their maps".
But as soon as we hit the shore line Mark pulled out the trail guide. Now I am all in favor of excessive planning but it is with some trepidation that we watched Mark consult the trail guide. Although Mark had been on many winter camping trips he was not known for organizing and planning any trips. His previous attempt at organizing resulted in the "The Much Anticipated Never Accomplished Rainbow Falls Trip".

OK, at least Mark is sure where we came from…  While Mark shed his Beyond Fleece Steel Windshirt and consulted the trail guide Scott hydrated and kept an eye on Maddux. Jay decided to surreptitiously check his GPS Unit. Not that Jay would betray a trust in Mark, but hey it never hurts to measure twice.
We left the Lizard Pond trail where the swamps in the pond's valley first become visible, and headed up the mountain.
Mount Blue, which rises from a solid ledge deep in Garnet Lake to a height of 2,940 feet with an elevation gain of ~1500′ from the lake.  Mount Blue is part of the Wilcox Lake Wild Forest, a popular winter recreation area in the southeastern corner of the Adirondack Park.

Although Mark, who had planned the trip, touted the hike as "relatively easy," we found out later that DEC's Wilcox Lake Wild Forest Draft Unit Management Plan characterizes it as offering "moderately difficult bushwhacking opportunities to adventuresome hikers and snowshoers." This proved an apt description. Fortunately, Jay had packed trekking poles, which he graciously loaned Jim for the bush whack up and down Mount Blue. Needless to say, they were a great advantage and a set of trekking poles where purchased after the trip.

Treeless patches on the southeastern side of the mountain-the result of a 1908 fire-affording us splendid vistas. Taking advantage of these open areas, ledges and false summits, one can enjoy 270 degree perspectives of Crane Mountain, Lizard Pond, Bearpen Peak, Baldhead Mountain and Moose Mountain. To the west are Georgia Mountain, Harrington Mountain, New Lake Mountain and Wilcox Mountain. With these glimpses of the impressive panorama providing inspiration, we scrambled onward and upward.
As we climbed up Mount Blue there were several ledges and false summits offering views of Garnet Lake and Lizard Pond.
At the peak, we posed for the requisite group photograph and enjoyed a quick snack while the wind blew in increasingly dark cloud cover.
It was steep and slippery climbing up, but nothing like the journey downslope when each of us experienced a 'Jay-nami'.
Then it was time to head back down Mount Blue. If the way up was steep and slippery, the way down was steeper and slipperier.
Fortunately, no one got hurt as we tumbled and slid our way down the mountain and soon we re-joined our backpacks and made our way to the lean-to along Lizard Pond. We hiked the remainder of the trail along Lizard Pond to spend the night at the lean-to on the western shore.
Once we settled in at the lean-to, we boiled water for hot drinks and wolfed down reconstituted freeze-dried meals. In other situations, what passes for food in these highly processed packages would be turned back to the kitchen. However, the salty, hot food tasted great to four tired, wet and cold winter campers.
but for Maddux was dried dog food.
Afterward we sat around a fire and talked until bedtime as flurries floated down. This is one of the best parts of winter camping. Since it is dark early, there is lots of time to chat, laugh and discuss future trips. Not only does a campfire help pass the time during the long nights, but the sense of camaraderie is enhanced as the night deepens around a campfire circle. As our fire dwindled, we settled into warm sleeping bags and took advantage of the extra darkness to log a solid night's sleep.
We settled into warm sleeping bags. This was possibly the maiden voyage for my Western Mountaineering winter sleeping bag – an extra long, over stuffed, over engineered Puma.
In the morning, we awoke to the sun illuminating the back side of Mount Blue across Lizard Pond. Mark was the first to arise while the rest of us lingered in our warm sleeping bags and offered breakfast ideas. Despite our imaginative suggestions, Mark gave us hot water, which we used to make a simple breakfast of hot oatmeal washed down by coffee and hot chocolate.

Following this quick breakfast, we snowshoed out the Lizard Pond trail to our cars and searched for a convenient diner for a well-earned second breakfast.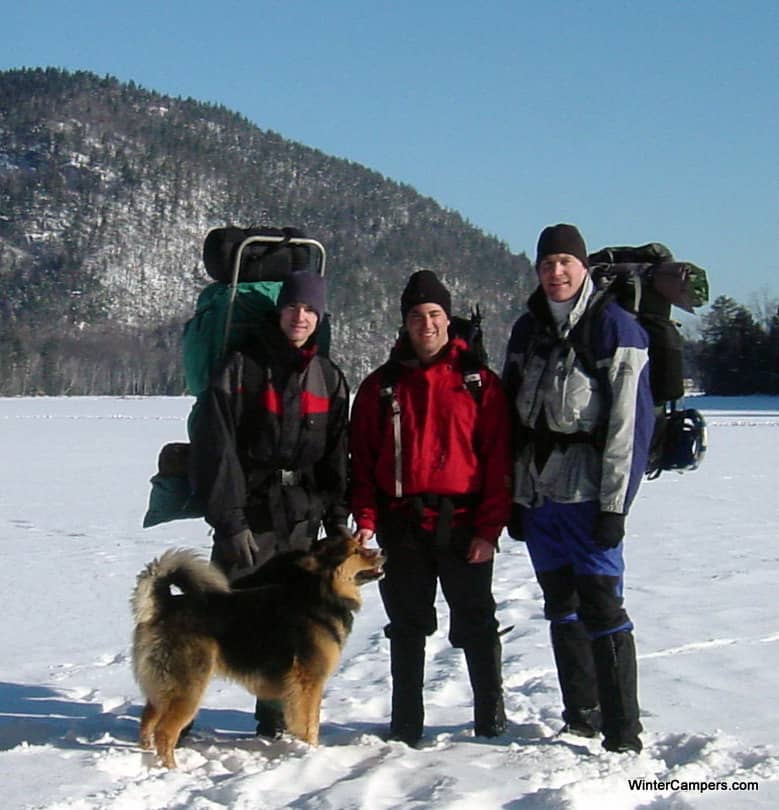 SHARE
February 15th, 2016 | Category: Adirondacks, Cold Weather Camping, Nature & Outdoors, Snow Hiking | Comments are closed
We have experimented with thermos/vacuum bottles.  Not testing various brands – we have no special insights there – but on their use for winter camping.
If possible pre-heat the thermos with some boiling water (fill, let stand for ~5min and refill with boiling water), this makes quite a difference. With pre-heating and some protection a Thermos (brand) bottle holds the content HOT for about 12 hours (of course depending on conditions) and warm enough to be nice to drink some 18 hours. Also the bigger the better (volume / surface area) so buy a one liter model.
For overnights in winter I've had good luck with insulating the thermos and keeping it inside a pack to keep the wind off. You won't burn your tongue in the morning, but it is still warm enough to satisfy.
Filled with hot water the night prior and given some protection (e.g. in a tent or, better yet, within your sleeping bag) they will render nearly hot coffee the next morning.  That plus a granola bar or two is usually enough to get moving in the morning.  Your body can only absorb about 400 calories of food an hour,  so it really doesn't matter how much food you consume for breakfast once your have consumed an initial meal.
Depending on the type of winter camping trip you are taking it may not be desirable to hang around in the morning and cook breakfast.  A vacuum bottle of coffee and a quick bite enables one to pack up and move out.
Follow our occasional Tweets @WinterCampers and visit us on Facebook.
SHARE
February 14th, 2016 | Tags: coffee, thermos, vacuum bottle | Category: Winter Camping, Winter Camping Gear | Comments are closed
Before you pitch your tarp or tent for the night or before you build your quinzee, you want to let the snow firm up or sinter.  Sintering of snow is when snow crystals lose their points due to molecular motion, wind, and direct pressure.
Initially, snow falls as individual flakes or snow crystals, but pointy crystals and sharp angles are not as thermodynamically stable as more rounded crystals.
In nature, crystals lose their points due to molecular motion, wind, and direct pressure. Physically breaking the snow crystals, for instance stomping on them or disturbing them with a shovel, will produce the same effect. The crystal arms are broken and then rounded grains fuse by freezing into larger crystals in a process called sintering. Snow crystals resulting from destructive metamorphism compact easily and can become very hard and dense.
Rounding and sintering stabilize the new snow and, along with gravity, cause it to settle. Thus, there is a net loss of height- which causes settlement.
Follow our occasional Tweets @WinterCampers and visit us on Facebook.
SHARE
February 1st, 2016 | Tags: sintering | Category: Nature & Outdoors | Comments are closed
As an avid snowshoer I know how important gaiters are to keeping snow from slipping in-between your pants and the top of your boots. Snow gaiters can keep both your pants and feet dry when you snowshoe in the deep stuff.
Gaiters for snowshoeing are usually longer than hiking gaiters and typically extend up near the knees. They are made of thicker material and are highly water repellent.  Because the user will want to make adjustments while wearing gloves or mittens they usually have easily manipulated snaps and/or Velcro to secure them on top of your leg and boots.
Gaiter shopping tips:
Make sure your snow gaiters have a means of securing them at the top so that  you can keep the gaiters cinched around your leg. The last thing you want is your gaiters sliding down your calves!
Look for gaiters with cords or straps that are replaceable. You want your gear to be useful for many years. If there is a strap or cord that runs below your boot it will eventually wear out. Look for gaiters where you can easily replace those straps or cords.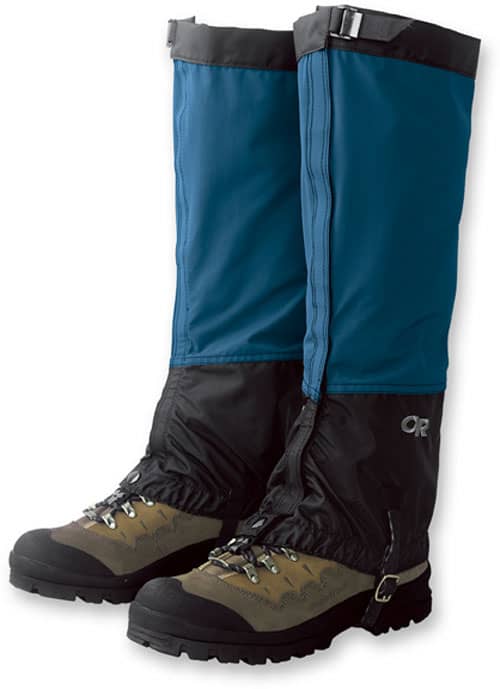 Follow our occasional Tweets @WinterCampers and visit us on Facebook.
SHARE
January 30th, 2016 | Tags: snowshoeing, snowshoes | Category: Snow Hiking, Winter Camping, Winter Camping Gear | Comments are closed
The 104th snowshoed 700 miles in about 35 days, carrying or pulling their supplies and equipment. They did this in one of the coldest and snowiest winters on record. Their orders were to march from Fredericton, New Brunswick in eastern Canada to Kingston, Ontario to help protect that city from the expected American attack during the War of 1812.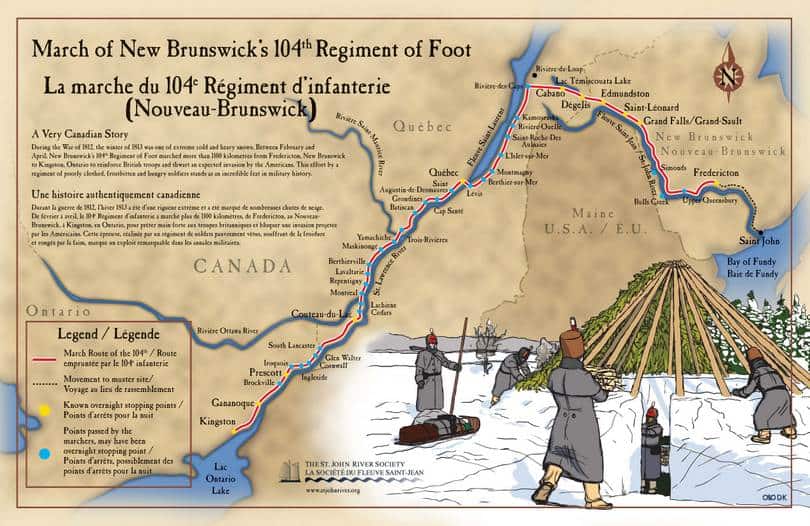 The War of 1812 officially began on June 18, 1812 when the U.S. declared war on Britain. The main military objective of the American government was the annexation of the British colonies of Upper and Lower Canada, areas that are now Ontario and Quebec. (Canadian Confederation wouldn't happen until 1867).
There were several reasons that the young country of America felt war with Britain was justified and necessary. The first was a series of trade restrictions Britain instituted to hinder trade between the U.S. and France. Britain was in the midst of a two decade war with France and was trying to deny supplies to their perennial foes.
In order to keep their ships manned, the British navy began pressing men into the navy. Britain did not recognize British immigrants to America as anything but still British. Because of this policy a lot of naturalized American sailors got pressed into service aboard British warships. In fact, Britain wasn't too strict on whether the sailors they pressed into service were actually British at one time or not. You could say that Britain had an official policy of kidnapping citizens of others countries.
Also at this time Americans were moving into the interior of the country, displacing aboriginal people. In the ensuing violence, the Americans believed the British were arming the aboriginal people and encouraging them to resist the American settlers.
For these reasons the U.S. felt that Britain wasn't recognizing American sovereignty and that war was necessary.
In the early part of the war things were not going well for Britain. The majority of British troops were already fully engaged in Europe in the war against France. Thus the order was given for the 104th to make their way from New Brunswick to help reinforce the troops at Kingston and since it was February and the rivers were frozen and travel by ship was impossible. They would have to march.
And march they did, with more than 570 men leaving the barracks in Fredericton between Feb. 16 and 21 and heading up the St. John River. Their marching started each day just after first light and continued until about 2:30 p.m. when they would stop and make camp. If they were lucky, they would be able to find accommodations in barns or other buildings. If not, they had to build temporary huts by using their snowshoes to shovel the four or five feet to the ground, then propping small trees around the low snow wall to form a roof frame. Pine boughs were then placed on this to form a roof. In the middle of this hut was a fire pit. Their mattresses were more pine boughs. While some of the men were building the huts, others were getting fires going to thaw out their supper of pork and biscuits.
The marching was hard going, especially given that the winter was especially cold and snowy. Every two men were issued a toboggan to carry their gear and up to 14 days provisions. The man in front would pull the toboggan and the man in back held a stick that was attached to the back to help push or hold it back on the downhills. Each pair of men took their turn leading for 10 to 15 minutes to break trail, then they would stand aside to let the regiment pass and rejoin the rear.
Even though each man was required to carry their own gear on the toboggan it really wasn't that much. Everyone was issued a rifle with 30 rounds of shot, a pair of snowshoes, moccasins, one blanket, a fur cap, mittens and a scarf along with their uniform and greatcoat along with 14 days of provisions. Lieutenant Rainsford of the 104th described their clothing as "poor and scanty, their snowshoes and moccasins miserably made; even their mitts were of poor, thin yarn." The previous summer an American privateer captured new uniforms destined for the 104th so what they were wearing was old and tattered.
The first section of the route of the 104th was what was called the Grand Communications Route which was up the St. John and Madawaska rivers, on to Lake Temiscouata, overland to the St. Lawrence River and then on to Quebec City. They stayed in Quebec for two weeks before continuing along the St. Lawrence to Kingston at the eastern edge of Lake Ontario.
The records of the march are conflicting but it appears that of the 570 or so soldiers who started the march, only three did not finish. One died on route. Another was left behind with an escort because of severe frostbite. But that's not to say that they were in great shape at the end. Frostbite was common.
Another ailment many of the men suffered from was mal de raquette which is an inflammation of the Achilles tendon caused by spending too much time on snowshoes. Although the records don't tell us how many, one of the commanders reported that many had died after the march and many more were sick in the hospital. Those that were healthy enough went into battle in the spring. For enduring these hardships a private in the 104th regiment would earn the not so princely sum of 18 pounds and five shillings per year. For comparison a farm hand at the same time would earn in the vicinity of 30 pounds annually.
During the first stage of the march the men were making from 15 to 22 miles per day or two to three miles per hour. While this may not seem fast it really is incredible. These men were doing this march in hardwood and rawhide snowshoes. Equipment that was a lot heavier than my aluminum shoes. Winter in this part of Canada can be pretty brutal but by all accounts 1813 was a particularly bad winter.
The snowfall was reported to be heavier than in the previous nine years and it was cold, with the mercury dropping to -27degrees Fahrenheit on one occasion. And there wasn't any down filled clothes at that time. They had to stay as warm as they could in woolen overcoats and thin mittens. And the nights wouldn't have been any more comfortable. One wool blanket was what each man was issued. And we all know that food is our fuel. I doubt that the calorie count of their daily ration of one pound of pork (including bones) and 10 ounces of biscuit washed down with tea, coffee or hot chocolate would have supplied enough energy to satisfy their requirements.
Yes, these men were tough. So the next time you are debating going snowshoeing because it's too cold or windy or maybe you don't have the right clothes. Or you back out of an overnight trip because all you have is a three season tent or your mummy bag is only rated to -15, think of the 104th and get out there and enjoy whatever the weather gods throw at you.
Written by Doug Scott  this article was published on September 16, 2012 in Snowshoe Magazine.
SHARE
January 29th, 2016 | Category: Winter Camping | Comments are closed