I had a couple of pieces of 9′ Tyvek left over from the home remodeling that I wanted to experiment with for camping applications.  I took a piece to use as a ground cloth in my megamid tipi when we winter camped on Peaked Mountain and it worked well.
A bivy can keep your sleeping bag clean and out of the snow winter camping in a snow shelter, floor-less tipi, tarp or lean-to. A bivy can also add warmth to your sleeping system.
For this project you will need: scissors, a nine foot section of Tyvek, double sided carpet tape and sticky backed Velcro tape. It is helpful, but not necessary, if you wash the Tyvek, without using detergent, so it isn't as crinkly sounding.
Two concerns of bivy sacks are:
They can be confining and restrict moving around during the night. If someone is claustrophobic they may not enjoy sleeping in a bivy.
Condensation from the occupant can get captured inside the bivy and can moisten the sleeping bag.
Set your sleeping pad down with your winter sleeping bag across the 9' width.  Make a note of which side your sleeping bag zipper is on and then fold the Tyvek over everything such that the side without the zipper will be fully sealed. Trim it to provide a generous fit; this will enhance ventilation and provide room for storage of gear and clothes.
There are DIY Tyvek projects that sew seams and glue them but double-sided carpet tape is quicker and easier to apply (once one determines how to remove the film).  It is super strong – the Tyvek will tear before the tape separates from the Tyvek.
Turn your bivy inside out so the Tyvek advertising is on the inside. Use the carpet tape to tape the bottom of the bivy half-way up the side to approximately waist height. Press firmly on the tape to ensure good adhesion.
Apply 2-3 tabs of sticky backed Velcro such that you can secure the top half, if desired, and you are done!
Two views of the finished product. Total weight ~10oz.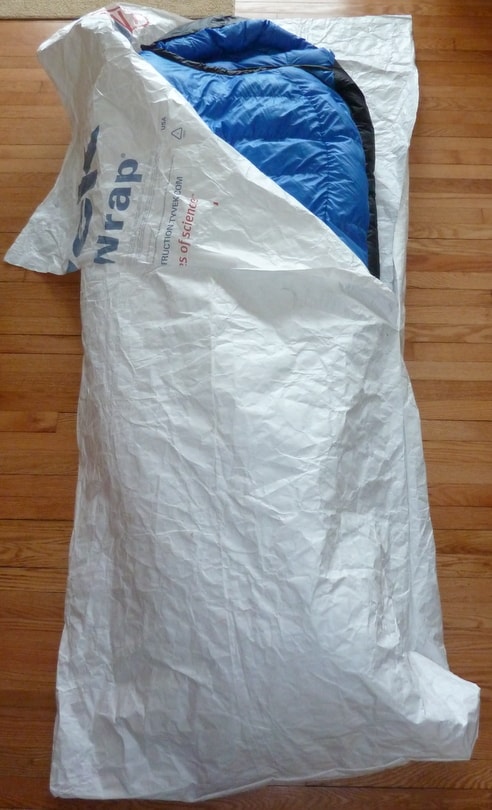 Follow our occasional Tweets @WinterCampers and visit us on Facebook.
SHARE
November 27th, 2015 | Tags: bivy, DIY, sleeping, sleeping warm, Tyvek | Category: Winter Camping, Winter Camping Gear
Comments are closed.