WinterCampers.com Web Pages
Winter Camping at Cascade Pond
The Cascade Pond trail is 3.6 miles.  The trail begins along a narrow dirt road next to a small cemetery on Durant Road at the southern edge of the Hamlet of Blue Mt. Lake. The trail turns sharp right leaving the road .1 of a mile from the trailhead and at .75 of a mile crosses Rock Pond Outlet over a long boardwalk. Cascade Pond lean-to is reached in 2.8 miles. The trail continues southeast for .8 of a mile to intersect the Northville-Lake Placid Trail north of Stephens Pond.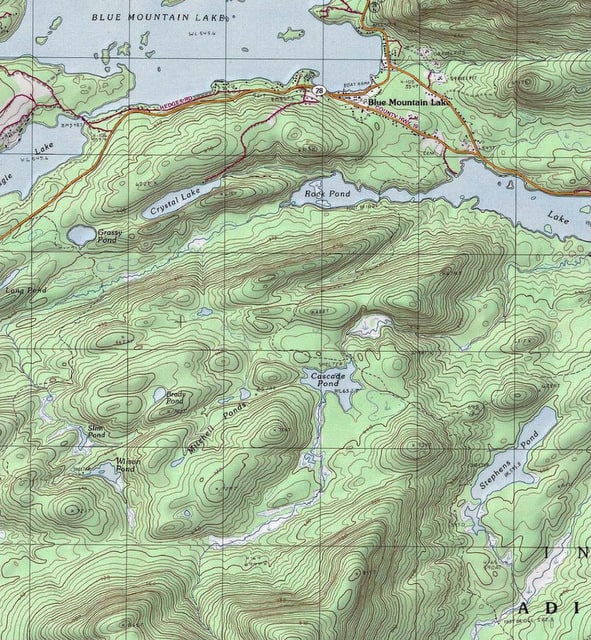 4 members of the crew (Matt, Mark, Sparky and Chris) set out for Cascade Pond near Blue Mtn Lake.  The trail was 2.8 miles of some fairly steep, tiring, sweaty, inclines along the way.
We did the hike to the lean-to in about 1 hr 40 min, changed out of our sweaty clothes, ate lunch and gathered firewood.
A pretty stiff breeze was blowing off of Cascade Pond which thankfully died down as the afternoon and evening wore on.  The bright sunshine did a fair job of offsetting the breeze at times though.  We found a canoe along the edge of the pond which led to a nice group photo opportunity.
Sparky took on the role of fire master and we had a really nice fire.  Chris had soup for dinner while Matt, Sparky and Mark dinned on brats cooked over the open fire which is quite possible the perfect winter camping meal.  Easy to cook and no clean up.
We chatted around the fire until shortly after 9pm before settling into the lean to for bed.  Everyone slept pretty soundly with minimal snoring.  We rose around 6:45 am, ate breakfast and packed up for the hike back out around 8am.  There were 2 or 3 inches of fresh snow when we awoke and a steady fine snow fell the entire hike back out.
Mark set a vigorous pace on the way out which led to doping accusations.  We were back to the trailhead in about an hour and twenty minutes.
February 25th, 2009 | Category: Adirondacks, Cold Weather Camping, Nature & Outdoors, Snow Hiking, Winter Camping
Leave a Reply