First developed by NASA in 1964 for the US space program, space blankets consist of a thin sheet of plastic coated with a metallic reflecting agent which reflects up to 97% of radiated heat.  Many campers have a space blanket in their emergency kit, however, few have ever used one.
Space blankets are not blankets.  We usually think of a blanket as something that will insulate from the cold air – you can fold up a wool blanket and place it on the snow, sit on the blanket and for the most part your posterior won't get overly cold. Conversely, space blankets offer near zero insulating properties and conduct cold or hot temperatures very efficiently.
The purpose of a space blanket is to reflect heat back towards the source of the heat. If you are very cold a space blanket alone will do little to help reheat you.  If, however, if you are producing heat (e.g. a marathon runner at the end of a long run)  a space blanket will significantly slow down the rate at which your radiated heat dissipates into the environment.  If you find yourself stranded in a blizzard you can use a space blanket to slow the rate of heat loss but it won't do anything to heat you up after you've spent 2 hours wandering around.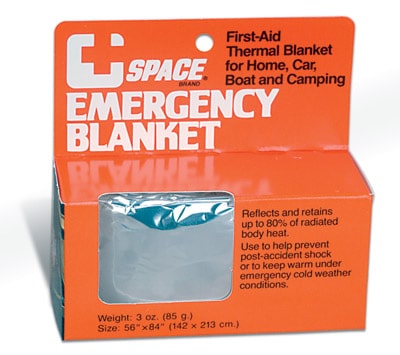 Space blankets have drawbacks:
You can never get a space blanket folded up like they were before you opened them.
Light weight space blankets tear easily and may be single use.
Space blankets are loud and can crinkle through the night.
So what good are space blankets then?
Space blankets are inexpensive, light weight and packable.
Space blankets are multi-purpose; serving as a clothing, a shelter or signaling device.
A space blanket can be used as a emergency poncho or wind jacket.
Space blankets can be used as a emergency shelter.  They can shed rain/snow and offer a good wind break.
A space blanket can be used under a sleeping bag as a ground cloth.
Space blankets will reflect the sun's energy away from you and provide shade.
A space blanket makes a good emergency signal flapping in the breeze and reflecting sunlight.
A space blanket can be used as a heat reflector in back of a camp fire to direct heat from the fire.
In a first aid situation a space blanket can be combined with a traditional blanket to maximize the reheating of a victim much better than either used by themselves.
Follow our occasional Tweets @WinterCampers and visit us on Facebook.
SHARE
May 20th, 2015 | Tags: space blankets | Category: Cold Weather Camping, Winter Camping, Winter Camping Gear
Comments are closed.