Through Matt's initiative Mark, Matt and I are having primaloft pants made.  I love primaloft fabric for warmth in winter camping.  PrimaLoft is as warm as down, compressible, breathable and offers superior water repellency.  I have a couple of primaloft jackets and have looked with envy at the BeyondClothing Primaloft pants.
Matt purchased the fabric and talked his Aunt Corrine into using a sweat pants pattern to make the pants. Below is the batting of primaloft for the three pairs of pants.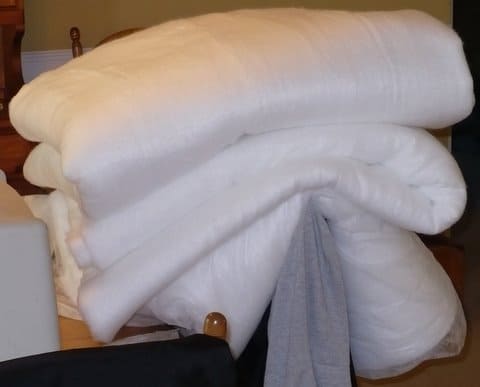 The insulation is sandwiched between layers of black nylon.
Each pair of pants will have a draw cord waist.  The legs will have velcro leg openings up to the knee to permit slipping them on over boots.
Since the pants are intended for warmth and lounging around the fire at night we will be most likely wearing them over other layers, so the fit is relaxed.
I get to try on a prototype this weekend for final sizing adjustments.
SHARE
October 9th, 2008 | Tags: custom pants, primaloft pants, Winter Camping Gear | Category: Winter Camping Gear
Comments are closed.