For people who are sick of the cold and snow and hoping for a quick end to winter, AccuWeather.com Chief Long Range Forecaster Joe Bastardi may have bad news.
More persistent cold is expected to hold strong through at least the middle of February across much of the eastern two-thirds of the country. Bastardi also expects wintry events to last into April in some areas, which would be longer than last year.
Based on what is predicted for the rest of the season, Bastardi also says that this winter could end up being the coldest for the nation as a whole since the 1980s.
Read the full report here.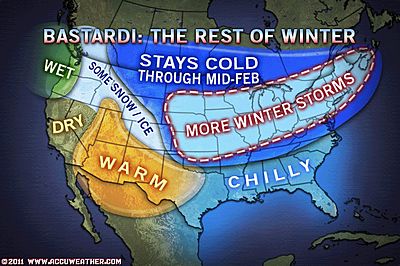 Follow our occasional Tweets @WinterCampers
SHARE
January 24th, 2011 | Tags: weather, weather planning | Category: Nature & Outdoors
Comments are closed.