For a small group of 3-5 campers the heated Kirafu Tipi is a nice way to go winter camping.
The set up process involves clearing a large area of snow – or at least leveling the snow as much as possible.
Then we stake out the tent.
Insert the center pole and lift the Tipi.  Good job lifting, Len!
The wood stove is stainless steel and weighs in at just over 4lbs. When folded up it is roughly the size of a laptop and comes in its own carrying case. We recommend rolling the stove pipe a few times at home first in order to loosen it up a bit and to get the hang of it. It is easiest to assemble the stove outside and insert into the Tipi.
Once set up it is time to build your fire. The firebox is 8x9x20 so you will have to keep the wood small since the door only allows wood of approximately 3.5 inches in diameter. Burn time is about an hour.  We typically don't try to maintain a fire all night long. Instead we use the stove to warm up the evening and dry out any wet clothing. The fire goes out during the night and then we just re-start it in the morning or cold camp if we are in a hurry to leave in the morning.
Success! Smoke coming from the chimney.
With attention the stove can easily warm the inside of the tipi up into the 70s. This is nice for drying out damp gloves and clothing.
It is also nice for laying around and chatting.  In the picture below Len displays a typical configuration by placing a space blanket on the ground, followed by an ensolite pad and then a sleeping bag.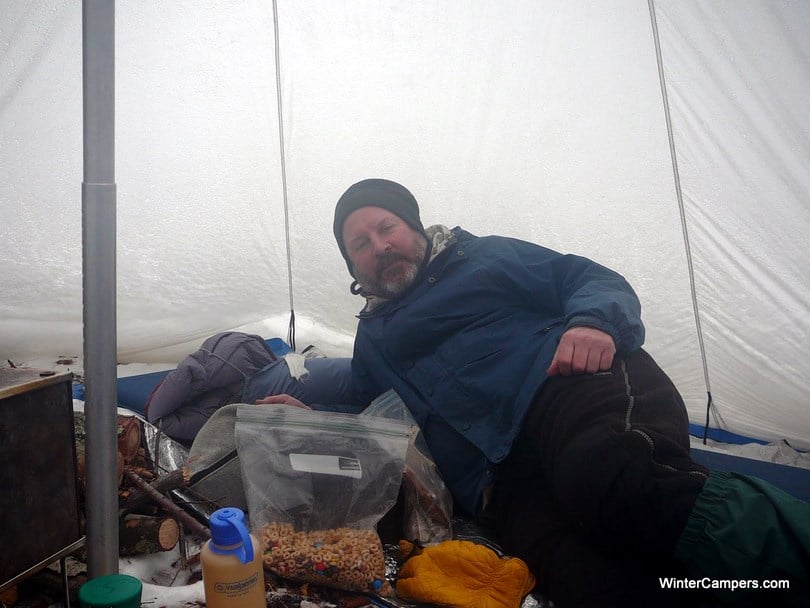 The stove can be used for melting snow, heating water, warming soups or, in this case, frying Brats.
The Tipi provides a nice winter camping shelter.
You can read more about the Kirafu Tipi here. Titanium Goat has a similar line of tipis.